Thanks for coming to visit. This site has been a long time coming.
Radio Announcer, Poet, Martial Artist, Songwriter,
Storyteller and Landscape Artist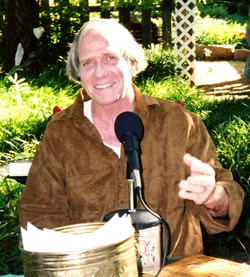 Radio Announcer
I've been a radio announcer, programmer, manager since the early 70's. I love visiting with people, talking about the news and sports and passing along the unusual stories of the day.
You can hear my show online with streaming audio live from 5am to 10 am (central time) weekday mornings on
www.kwhw.com
. In Southwestern Oklahoma and North Texas you can tune in 1450 AM on your radio dial. Altus Cable Television also broadcasts my show on channel 2. Please join me whenever you can!
Poetry
My
books of published poetry
number five now with more coming during 2009! Please check out some samples and excerpts from my new release,
Animal ABCs - A book of Whimsy
,
Reflections of a Wandering Mind
,
More Reflections of a Wandering Mind
,
Oklahoma Proud
, and
Songbook in My Head
. Drop me a note to let me know which one is your favorite!
Songs
I've written a hundred or so Songs. and published many of them in Songbook in My Head. Now I'm looking for a collaborator to help me put music to the lyrics. Contact me if you've got extra tunes running around your head!
Storytelling
This is a fledgling category. Eventually I plan to release a number of albums of stories on various topics. Right now, time has been swallowed up by other projects. Click
Storytelling
to see how much progress we've made!
Gardening
One of my interests for many years has been my garden. See our
Our Garden
page for some photos of the plants, the ponds and the waterfalls in Southwest Oklahoma. I think you'll really enjoy and be surprised. It's always fun to talk gardening, so click on .
Martial Arts
I've been involved in the martial arts for almost thirty years and have studied Shotokan, Kempo, Arnis, Kobudo and many other styles. I've blended my arts into a style called Kihido, "The way of the spirit that shines like the sun". I am a master instructor for academies in several states. Click
martial arts
for more information.
My Store
The books and CDs that I've written and produced have turned into a cottage industry. Thanks to everyone who has been so supportive! Come and visit
My Store
to see what books, CDs and other products are available!
Well, I hope this gives you an overview of the many rooms full of Eddie's Stuff. Thanks again for coming to visit. Hope to talk to you soon.
Warmest Regards,
Eddie Wilcoxen
Eddie Wilcoxen, Copyright © 2008, All Rights Reserved
(580) 471-9733, 712 East Walker Street, Altus, OK, 73521