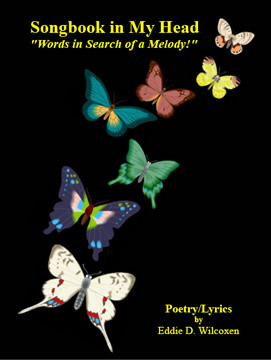 I've been a dedicated listener of music since I was very young, and I like to hear well done Bluegrass, Country and Western, Blues, Rock, Folk, Jazz (especially Dixieland), Gospel, and more. Despite this, I don't speak the language of music. I don't read it and I don't write it, but I do love words, and I've written several books of poetry.
This is the first time that I've tried my hand at writing song lyrics, although some of these words have been bumping around in my head for a lot of years. So, I've done what I can for these "songs in the shell". It's up to someone else to hatch them and make them fly! It's a dream of mine that one or more talented musicians will want to shape these words into songs to sing.
I know that in order to do that, you may have to make some changes—go for it! I understand that these words are not an exact template, but rather as they say in the movies, they are, "more like guidelines"! I do realize that in that process, we become "co-writers". I can't imagine a more satisfying honor!
Hope you enjoy the poetry and the stories. I certainly had a great time writing them!
Eddie D. Wilcoxen
See previews of
Songbook in My Head
See our
Store
to order this book
Eddie Wilcoxen, Copyright © 2008, All Rights Reserved
(580) 471-9733, 712 East Walker Street, Altus, OK, 73521