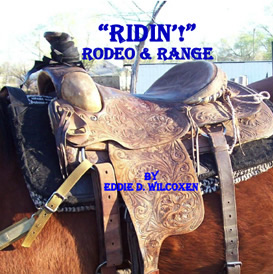 Saddle up and hit the trail with award winning author Eddie D. Wilcoxen for some great stories of both Rodeo and Range in this newest collection, "Ridin' Rodeo and Range."
This book honors the memory of the countless men and women who took on the challenge of "homesteading" in the American west. Much of subsequent American prosperity, success and values is the direct result of their sacrifices! A 2008 finalist nominee for Poet Laureate of Oklahoma, and Poet Laureate of The Western Trails Historical Society, Eddie D. Wilcoxen has written a half dozen books of poetry, including the Centennial book,
Oklahoma Proud
. His books range from introspective to thematic, and are like sitting down with an old and very interesting friend.
All profits from the sale of this book benefit the Great Plains Stampede Rodeo in Altus, Oklahoma. Be sure and pick up an extra copy for the cowboy or cowgirl in your family as a special gift, and support the Rodeo and the spirit of the west!
Be sure and tune in on the live streaming broadcast of his very popular morning radio show on
KWHW Radio
in Altus, Oklahoma.
Eddie Wilcoxen
See a preview of
Ridin' Rodeo Range
(pdf)
See our
Store
to order this book
Eddie Wilcoxen, Copyright © 2008, All Rights Reserved
(580) 471-9733, 712 East Walker Street, Altus, OK, 73521